Terengganu State Museum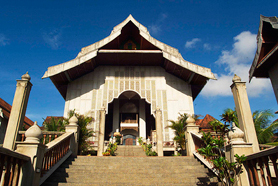 Introduction:

Terengganu State Museum is located at the state of Terengganu, east coast of Peninsular Malaysia. Not far from the city center, it's approximately 6 m away. It took up an area of 27 hectares, and is the largest museum in Malaysia.

It was officially open on April, 20 1996 by late Sultan Mahmud Al-Muktafbillah Shah, the Sultan of Terengganu. The main museum comprises of 4 blocks of big buildings and there are 5 traditional real houses located at the back of the main museum compound. Maritime Museum is also located within the vicinity, within walking distance from the main area.