Masjid Tengku Tengah Zaharah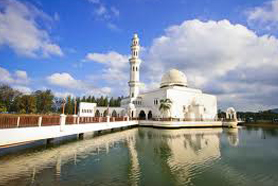 Introduction:

The Floating Mosque or Tengku Tengah Zaharah is the first real floating mosque in Malaysia. It is situated in Kuala Ibai Lagoon near the estuary of Kuala Ibai River, 4 km from Kuala Terengganu Town.

Construction began in 1993 and finished in 1995. The mosque was officially opened in July 1995 by Almarhum Sultan Mahmud Al-Muktafi Billah Shah, the late Sultan of Terengganu.